Renovating your attic can be a fun home project. Transforming it from an empty storage unit to a fabulous living space can easily be accomplished with the right plan. Still, not all aspects can be done by an ordinary individual.
It can be tempting to do a DIY attic ladder installation at home. While this can give you the freedom to have your ideal ladder, it can lead to unwanted outcomes like poor installation, compromised integrity, and safety hazards.
This article will discuss why attic ladder installation in Sydney is better accomplished by a knowledgeable professional.
Safety and Structural Integrity
Many homeowners can install an attic ladder perfectly by themselves. Though your ladder may look fine at first sight, there could be flaws in its installation that can lead to injuries and accidents.
There is an increased chance that DIY attic ladder installations are poorly done, usually with loose components and attachments.
With a professional's help, you can have peace of mind knowing your attic ladder is well-secured and free from potential flaws that could become a hazard to you and your home's occupants. They can also ensure the ladder will comply with building codes in your area.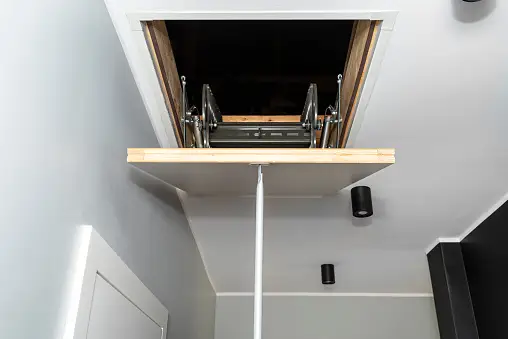 Expert Installation
There is more to attic ladder installations than screwing your new ladder to the attic floor. You need to cover many other steps, such as cutting the correct opening size, measuring dimensions, looking for the ideal location, and securing the ladder to ensure maximum load capacity.
Professional attic service providers possess the right skills and expertise to install your new attic ladder effectively, ensuring there are minimal errors common in DIY applications.
Design Integration
As much as possible, you do not want your new attic ladder to compromise the general design of your home. Making your ladder blend in with the property's aesthetics can be challenging, so we recommend calling professional help.
Expert ladder installers can seamlessly integrate your new attic ladder into the current interior design of your home. They can assure you it won't stand out too much or distract from the rest of the architecture.
Time and Effort
Installing an attic ladder will take too much of your time and effort. If you do not have time to work on any home renovation project, consider delegating the task to the experts.
Don't hesitate to reach out to professionals when you need help installing a new attic ladder. To ensure guaranteed quality and safety, we highly recommend contacting Attic Plus – Sydney's leading attic conversion specialists.